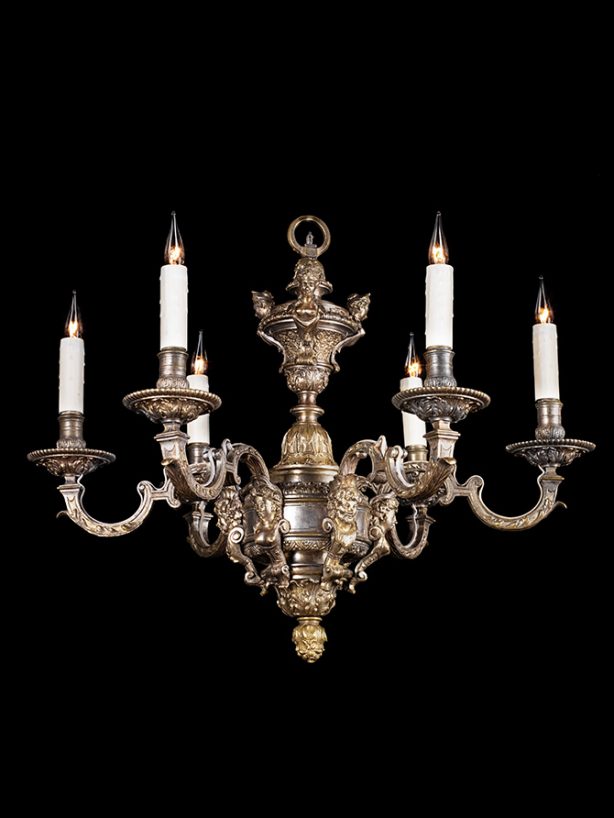 A six-light chandelier by André Charles Boulle
Artist: André Charles Boulle (1642-1732)

Epoque: France, Louis XIV period (1661-1715), circa 1715.

Material: Silvered bronze

Dimensions: H. 22 ½ in. (57.5 cm.); Diam. 27 in. (68.5 cm).


Description:
This bronze silver-plated chandelier features six square-section serpentine branches, ornate with acanthus leaves, ending in drip pans and nozzles, supported by consoles adorned with masks alternating men and women. They surround a cylindrical central stem terminating in a base with a basket weaving pattern, a foliate finial and a pine cone. It is surmounted with a foliate disk, a pedestal with large leaves, and a small urn with flower motifs supporting the bust of three crowned women. The top of the foliate urn supports the hanging ring.
This model was created after drawings by André Charles Boulle (1642-1732), the king's favorite cabinet maker. He published around 1725-1730 an anthology of Nouveaux Dessins de Meubles et ouvrages de Bronze et de Marqueterie conserved in Paris, in the musée des Arts Décoratifs, including a plate dedicated to the invention of luminary models .