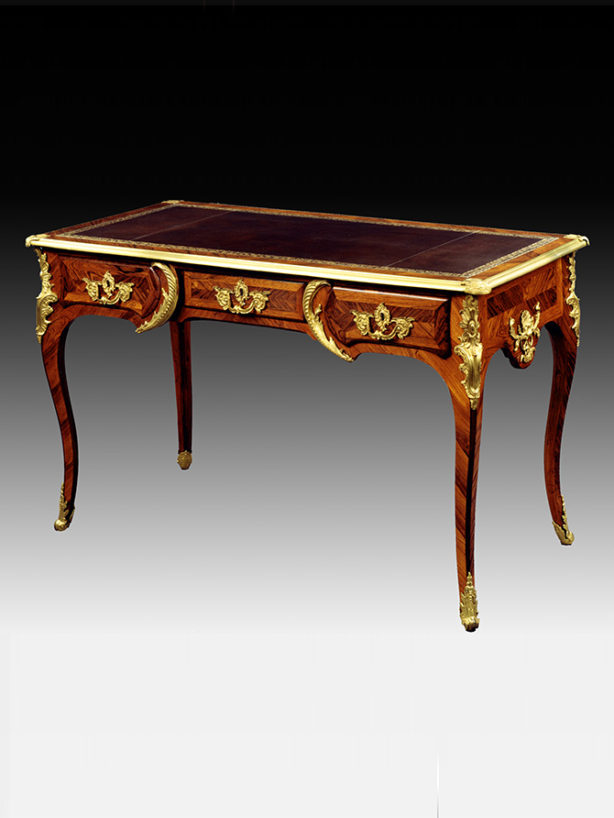 Bureau plat by Pierre IV Migeon
Artist: Pierre IV Migeon (1696-1758, master before 1729)

Epoque: Paris, Louis XV period, circa 1745-1750.-

Material: Oak frame ; rosewood; ormolu ; leather.

Dimensions: H. 31 in. (79 cm); W. 51 1/2 in. (131,5 cm); D. 26 in. (66 cm)

Signature: Stamped MIGEON


Description:
Pierre IV Migeon (1696-1758, master before 1729) was among the greatest cabinet-makers of the second third of the 18th century. He excelled at creating perfectly balanced pieces displaying strong lines – such as our desk – defined by powerful curves inherited directly from the Régence period (1700-1730), with an overall almost masculine shape, altogether associating decors showing a strong preference for monochrome decorative designs against, as in our desk, a kingwood base.
The very serpentine frieze characterized by strong indentations contains three drawers, each with a lock. The central drawer is deeply recessed (against the other out-rounded corners). Each of the small sides is centered with a tripartite strong curve. The desk rests on four en console legs displaying accentuated curves, with a mastery and finesse granting it an undeniable elegance. The rigorously rectilinear top is lined with gilt-tooled brown leather and surrounded with a molded ormolu border adorned with acanthus-chased quarter-rounds.
The opulent rococo ormolu décor only appears at the key points of the desk – angle chutes with oves motifs, volutes and acanthus leaves; scrolled sabots; festooned volutes flanking the recessed central drawer; shell motifs centering the small sides; foliate and festooned handles and key-holes. The choice to limit the use of bronze voluntarily accentuates the intrinsic beauty of the palissander, enhancing a décor en frisage on the front of the drawers and the sides.