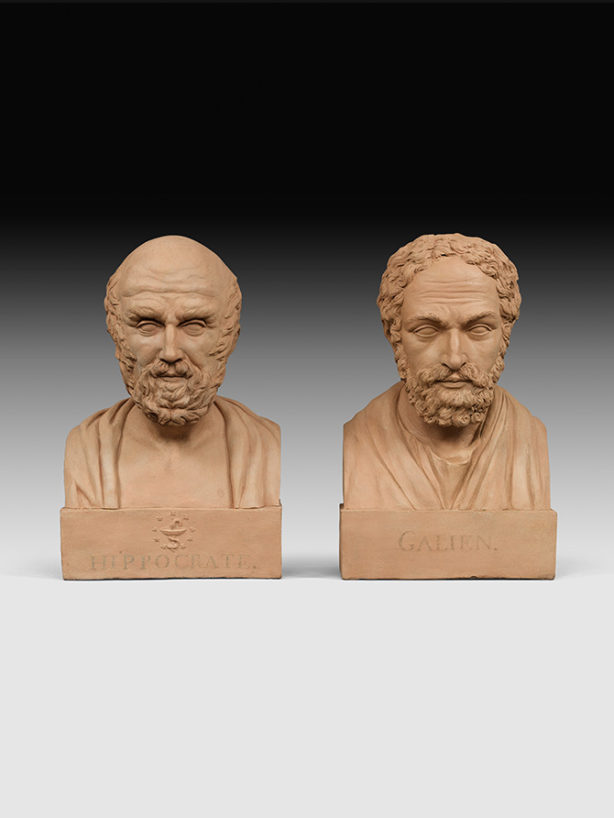 Busts of Galien and Hippocrates
Epoque: France, 1819

Material: Terracotta

Dimensions: H. 16 7/8 in. (43 cm) ; L. 10 3/8 in. (26,5 cm) ; Pr. 6 ¾ in. (17 cm)

Signature: Signed and dated on the back " Reverand sculpsit Orelianinsis 1819 ".


Description:
Created to decorate a physician's office, a scholar's library or simply decorate the entrance to a home, these busts reflect the simple yet luxurious, minimalist yet precious refinement that prevailed in the early nineteenth century. This aesthetic is now familiar to us, it meets modern echoes.
This aesthetic was then that of neoclassical art which swept, like a background, the whole of Europe from the late eighteenth to the early nineteenth century. Turned to Antique, inspired by the discoveries made in Rome, Herculaneum and Pompeii, fighting rococo fantasies and preaching interiority, this style is as much intellectual as symbol of decorative purity.
However, these busts of Galen and Hippocrates stylistically inherited a lot from the models issued by Antonio Canova (1757-1822) from the late eighteenth century. A favorite sculptor of Napoleon and members of his family, whose official portraits he made, Canova had many followers for two decades. His art of emotional restraint was celebrated for unparalleled formal perfection, its pure and luxurious details. His influence extended beyond the borders of the Peninsula to spread throughout Europe, especially through the dissemination of official portraits of the imperial family.
Galen and Hippocrates were modeled by a sculptor named Révérand. The archives are not very talkative about him; just know that it was established in the city of Orleans in the first decades of the nineteenth century. If his career has been lost, at least we still have two testimonials of his talent.