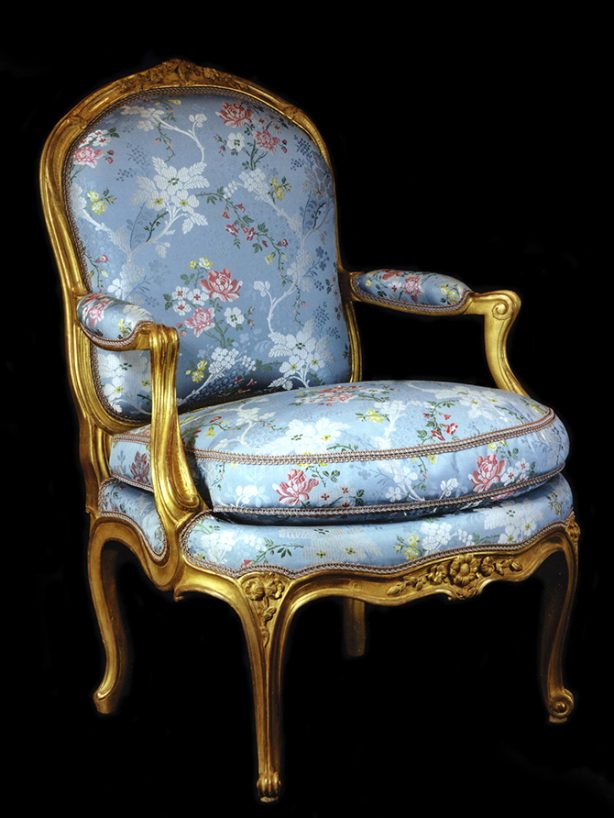 Four armchairs « À la reine » by Jean Boucault
Artist: Jean Boucault (circa 1705 – Paris 1786 ; master in 1728)

Epoque: France, Louis XV period, circa 1760.

Material: Molded wood, carved and gilded

Dimensions: H. 40 ¼ in. (102 cm.); L. 29 ½ in. (75 cm.) ; Pr. 29 ½ in. (75 cm).

Signature: Stamped I. BOUCAULT.


Description:
These armchairs in molded, carved and gilded wood, decorated with flowers "au naturel" are among the most beautiful Louis XV chairs, executed by Jean Boucault in 1760.
Each chair, with a curvilinear seat back "à la reine", shaped in the form of a cartouche and arched at the top, consists of scrolled moldings and a central floral composition. Emerging from the back frame, the excurvate and padded arms terminate in inwardly turned scrolls which are linked to the molded arm supports. The turned front legs are also crowned with floral ornaments.