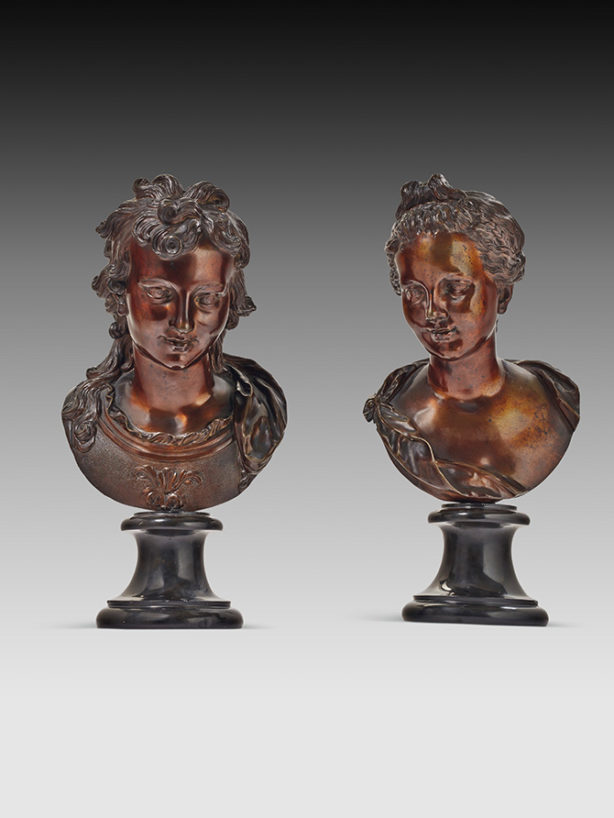 Mars and Venus by Robert le Lorrain (1666-1743)
Artist: Robert le Lorrain (1666-1743)

Epoque: Paris, circa 1720

Material: Patinated bronze, black marble pedestals

Dimensions: H. 15 in. (38 cm) ; Total height.: 19 ¾ in. (50 cm), L. 10 3/8 in. (26,5 cm)

Provenance: Paris, Charles Stein collection sale, May 10, 1886 ; certainly acquired around 1895-1898 by the count Boniface de Castellane ; Paris, Louis Guiraud collection sale, Paris, December 10, 1971, lot 116 ; Paris, Charles de Beistegui collection

Exhibition: Louis XIV, Faste et Décors, Paris, Musée des arts décoratifs, May-october. 1960, n° 751 bis.

Literature: - Hébert, Dictionnaire pittoresque et historique, ou description… de Paris, Paris, 1766, vol. 1, p. 69. - J. Pope-Hennessy et T.W.I. Hodgkinson, Sculpture in the Frick Collection, New York, Princeton University, 1970, p. 142-144. - F. Souchal (éd.), French Sculptors of the 17th and 18th c. The Reign of Louis XIV, Oxford, Oxford Univerity Press, 1981, vol. 2. - M. Beaulieu, Robert Le Lorrain (1666-1743), Neuilly, Arthéna, 1982. - G. Bresc-Bautier et G. Scherf (éd.), Bronzes français, de la Renaissance au Siècle des Lumières, Paris, Musée du Louvre, 2008, p. 431. - A. Kugel, Les bronzes du Prince de Liechtenstein. Chefs-d'œuvre de la Renaissance et du Baroque, Paris, 2008, p. 112, n° 37 et 38.


Description:
Few works by Robert Le Lorrain remain, most have disappeared. This rarity makes our pair even more exceptional, even though it was already so by its incredible quality of execution and its wonderful patina.
Around 1720, after working on the site of the park of the Palace of Versailles for Louis XIV, Robert Le Lorrain executes, for private sponsors, two bronze busts traditionally called Mars and Venus. Their extraordinary beauty and carving are an immediate success, which leads them to create others. Presented alone or in pairs, all are based on the same male or female model, but slight iconographic differences make each bust a unique work.
The pair we present belongs to this group of works made by Le Lorrain at the height of his career. Known for his strong character, he could decide sometimes to accept official orders, sometimes to create only for rich individuals, but always refused, contrary to the practice of time, to solicit the slightest engagement.
Their style is characteristic of French classical art that developed during the reign of Louis XIV. The girl shows a search for grace and natural according to the aesthetic canons of time: a bulging forehead, a pointed nose, almond-shaped eyes, a fashionable hairstyle at the court of France and a delicate drape reminiscent of prestige of antiquity. The slightly offset head gives life and natural to the bust.
Our pair, such as the Bust of a Young Girl at the Metropolitan Museum in New York  and the pair presented at the Frick Collection, share an extraordinary quality of chiselling. The same is true of the slightly different pair in Prince Liechtenstein's collections. However, our couple also has a unique golden patina, a deep golden brown and shimmering, intact since the eighteenth century. This exceptional achievement has brought our pair, like the busts mentioned above, to be acquired by the most prestigious collections: that, so famous, Charles Stein in the nineteenth century, that of Count Boniface de Castellane for its famous Rose Palace where were data from the festivals that have become legendary, and that, finally, of the decorator Charles De Beistegui, insatiable socialite and great collector.