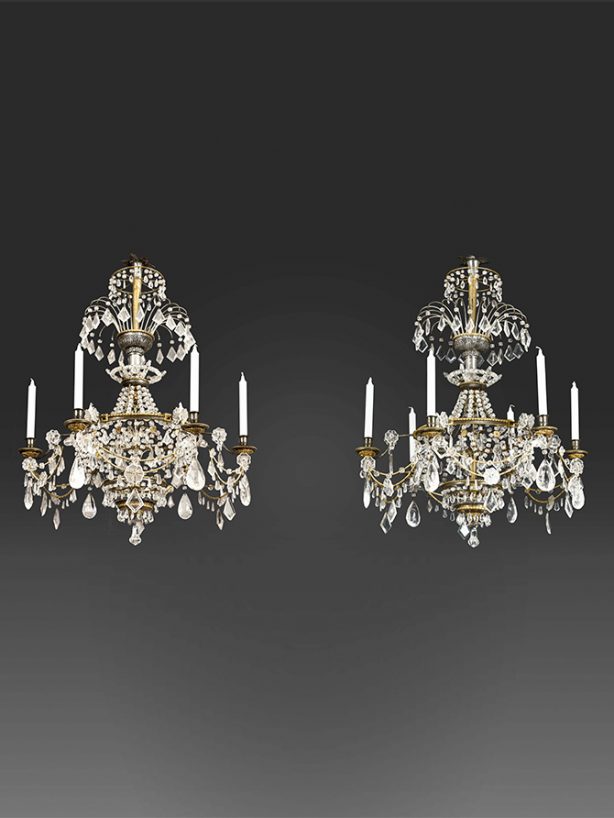 A pair of six light chandeliers
Epoque: Scandinavia, third quarter of 18th century

Material: Ormolu, silvered bronze, silver, rock crystal.

Dimensions: H. 35 ¾ in. (90 cm); D. 27 ½ in. (70 cm)


Description:
This pair of chandeliers in silvered bronze, ormolu and embossed silver is remarkable for its precious material and delicate quality of execution. Its six arm-lights are surrounded with tassels and rock crystal flowers. The exceptional quality of the carved crystals equals only the opulence of the lower and upper embossed silver cups, worthy of the work of a goldsmith.
The design of these chandeliers is one of ultimate elegance: the harmonious layout of the crystals in curves and counter curves delicately reveals the metal work of the frame. The embossed silver cups are delicately ornate with egg-and-dart and rows of pearls, testifying to the emergence of a neoclassical trend in Europe towards the second half of the 18th century.
This rare conserved pair, of Scandinavian origin, is inspired by the Italian production, in particular Genoa.