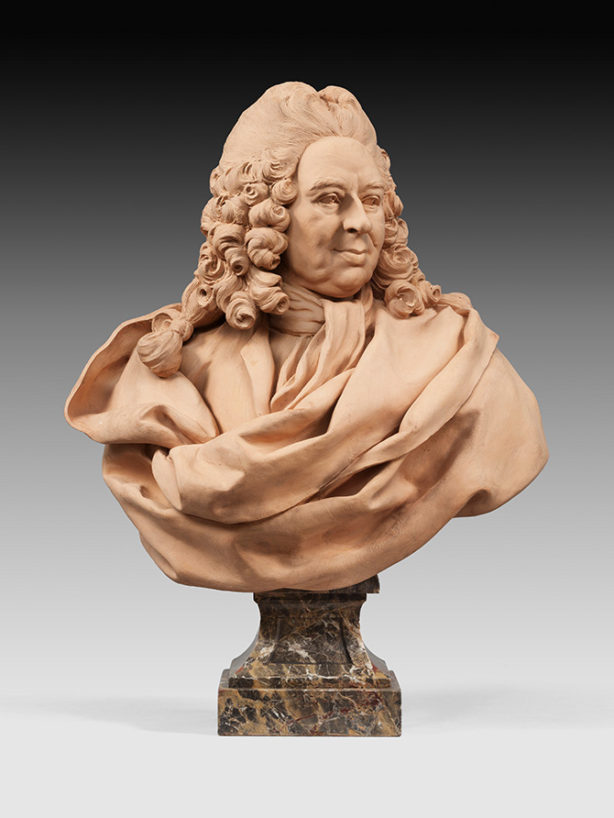 Portrait of Philippe Néricault-Destouches by Pierre-François Berruer
Artist: Pierre-François Berruer (1733-1797)

Epoque: France, 1779

Material: Terracotta

Dimensions: H. 29 7/8 in. (76 cm) ; L. 21 5/8 in. (55 cm); Pr. 12 ¼ in. (31 cm)

Provenance: Former Jacques Doucet collection (illustrated in P. Vitry and M. Nicolle, Collection Jacques Doucet, Deuxième partie, Catalogue des sculptures et tableaux du XVIIIe siècle, Paris, 1912, n° 92).

Signature: Signed "P.F. Berruer Fecit 1779"


Description:
Our monumental bust depicts Philippe Néricault-Destouches (1680-1754), French actor and playwright, famous for his plays such as Le Curieux impertinent (1710), and Le Glorieux (1732). Protected by the Regent Philippe d'Orléans, he is admitted to the French Academy in 1723 and was entrusted with several diplomatic missions, including the position of Secretary of Embassy in Great Britain.
Cut to the shoulders, the bust is surrounded by a large wraparound drapery that reveals a lapel of the coat and the cravat tied carelessly around the neck. The head, turned three-quarters to the left, is covered with along curly wig as it was worn at the time of the Régence.
This terracotta was probably executed after the completion of the model of the bust of the poet Destouches, whose marble was completed and exhibited at the Salon only two years later in 1781. Indeed, Berruer participated with Pajou and Caffieri in the official commissions of statues of great men made by the Count d'Angivillers, his statue of the Chancellor of Aguesseau had just appeared at the Salon of 1779. He performed, like them, retrospective busts of dramatic authors for the Comédie-Française in exchange for a lifetime entry.