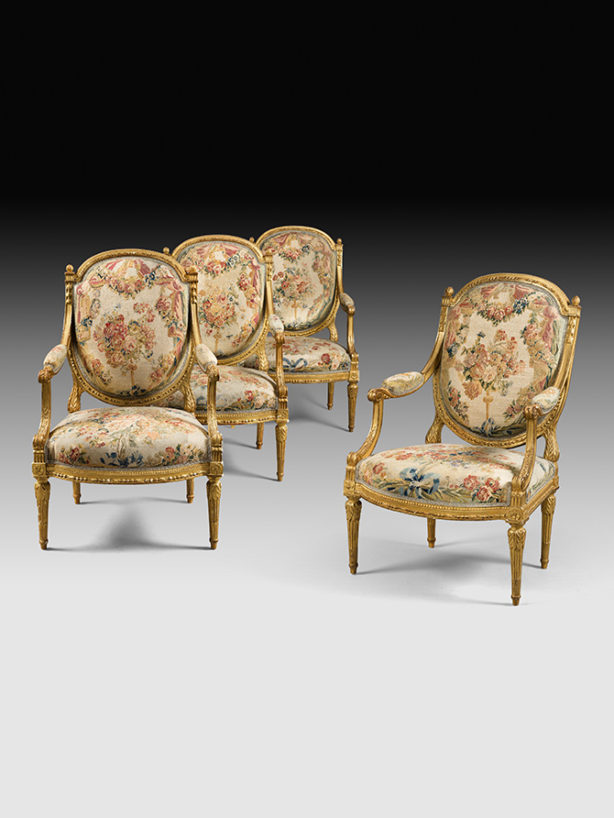 Set of four armchairs by Sulpice Brizard
Artist: Sulpice Brizard (1733-1798, master in 1762)

Epoque: France, Louis XVI period (1774-1792)

Material: Carved and gilt wood

Dimensions: H. 39 in. (99 cm) ; L. 25 ¼ in. (64 cm) ; Pr. 21 5/8 in. (55 cm)


Description:
Each gilt wood armchair presents a light cabriolet back with a carved edge patterned with rais de Coeur friezes and pearls, the upper rail in anse de panier flanked by foliated buttons square section with triglyphs. Two cuffed armrests emanate from the uprights, each ending in a winding, and supported by console armrests forming a concave curve underlined by florets and foliage, all resting in the axis of the front legs on a square base decorated with a triglyph found again on the upper part of the back, forming a beautiful harmony.
The curved and flared belt of the seat, adorned with friezes of rais de Coeur, pearls and caps, is interrupted at the corners by "dice" decorated with rosettes. The four legs are tapered, fluted, rudent and enhanced with stylized leaves and rings.
This exceptional suite of armchairs is a brilliant example of Brizard's talents, always concerned with elegance and proportions. One can only note that few Master have pushed as fare as him the finesse of the sculptures of which he adorned his works.