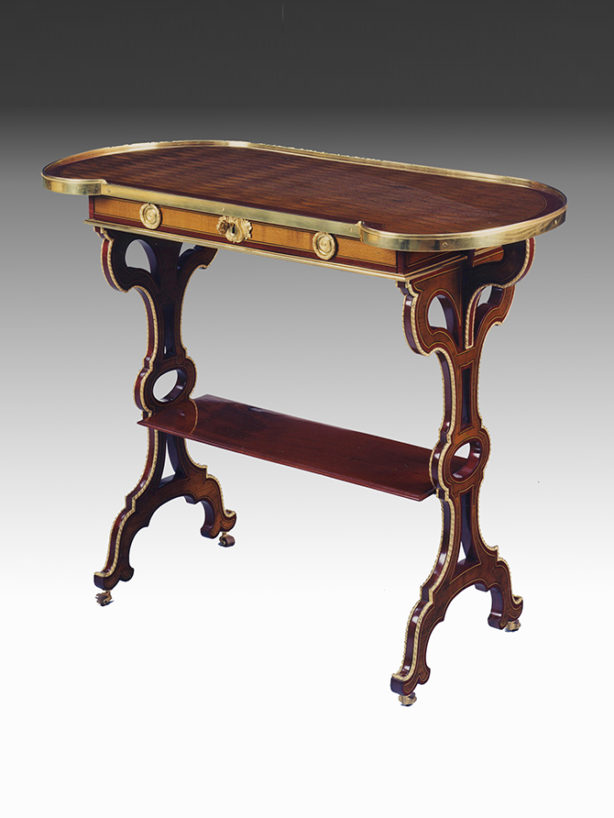 Table by Jean-Henri Riesener
Artist: Jean-Henri Riesener (1734-1806, master in 1768)

Epoque: Paris, Louis XVI period, between 1786 and 1788

Material: Oak frame; mahogany, amaranth and sycamore veneer; ebony and boxwood filets ; ormolu.

Dimensions: H. 71 cm (28 in.), L. 86,5 cm (34 in.), D. 44 cm (17 1/4 in.)

Provenance: Delivered between 1786 and 1788 to Marie-Thérèse de Savoie for the pavillon de Saint-Cloud; confiscated during the Revolution : sold in Saint-Cloud on February 26, 1794, lot 140; Banker Hainguerlot collection ; his heirs.

Signature: Stamped: J.H.RIESENER; SC in italic intertwined letters within an oval lined on the inside with dentils above the letters G. M, fire marks visible below the table, used by the garde-meuble of the comte d'Artois for the pavillon de Saint-Cloud between 1786 and 1789


Description:
This table created by Jean-Henri Riesener was delivered between 1786 and 1788 to Marie-Thérèse de Savoie, comtesse d'Artois for the pavillon de Saint-Cloud. The pavilion, in the vicinity of the château de Saint-Cloud purchased by Louis XVI in 1785, was owned by fermier général Chalut de Verin and rented furnished for a nine year lease to the comte d'Artois on August 22, 1786.
An inventory of the furniture and paintings belonging to the financier was recorded on that occasion. The comtesse d'Artois visited and dined at the château for the first time on September 1, 1786. The comte d'Artois spent over 276.000 livres to run the château in a three year period, including close to 88.000 livres for furnishings. Cabinet makers Jacob and Lelarge delivered the seats, while the remainder was handled and completed by Daguerre, the celebrated marchand mercier on the rue Saint-Honoré, as well as gilder Rémond, wall lights merchant Jousse and cabinet maker Mauter.
The task of creating the most valuable pieces for the exclusive use of the princess such as our table was entrusted to Riesener. As early as 1786, he was commissioned "  [ …] un secrétaire de bois d'acajou et deux petites tables pareilles […]" (a mahogany secrétaire and two small matching tables…). In 1788, he was still due approximately 1000 livres.
In 1789 following the exile of the comte and the comtesse d'Artois at the beginning of the revolutionary upheaval, an inventory of the pavillon de Saint-Cloud was completed. Excluding the Chalut de Verin family furniture, the commissioners mentioned in the boudoir of the princess  "un secrétaire en bois satiné et acajou à dessus de marbre blanc" (a satin wood secrétaire with a white marble top) as well as a "table à écrire et un vide-gousset aussi en bois satiné et acajou le tout garni de ses cuivres dorés d'or moulu" (a writing table and a vide-gousset also in satin wood and mahogany, all garnished with gilded copper", a description unfortunately too incomplete to reveal our table. However a new inventory a year later appears a lot more precise. It mentions under number 92 a "table en tricoteuse avec un tiroir en bois d'acajou et bois veiné avec ornement de bronze doré d'or moulu 60 livres" (a knitting table with a mahogany drawer and veined wood with gilded bronze ormolu). On 8 ventôse de l'an II (February 26, 1794), the table, recorded under number 140 of the sale minutes, was alienated for the amount of 180 livres to citizen Jubault, who happened to be the former property manager and housekeeper of the comte d'Artois paying himself back the credit he consented to his employer with furniture.
Riesener delivered a similar table in 1788 for the Cabinet intérieur of Queen Marie-Antoinette at the château de Saint-Cloud.