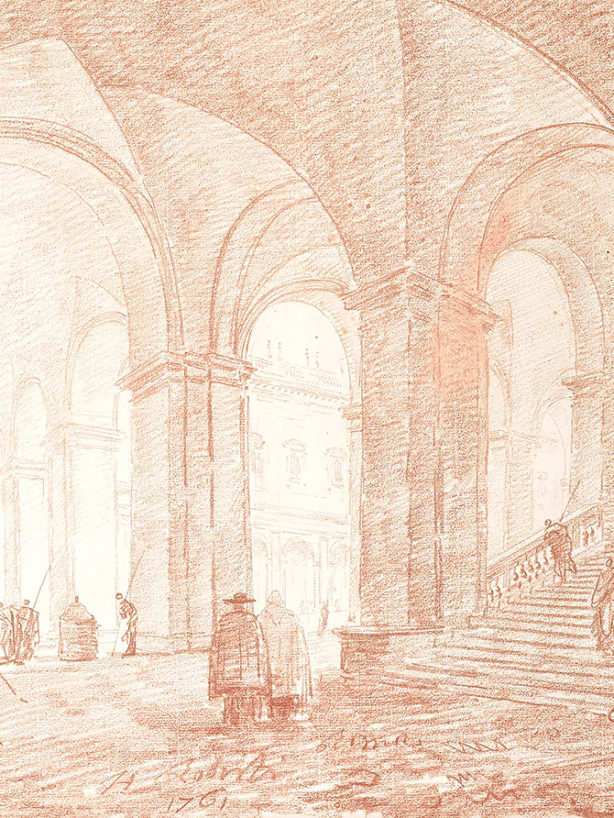 The courtyard of the Quirinal palace
Artist: Hubert Robert (1733-1808)

Epoque: French school, Rome, 1761

Material: Red chalk on paper.

Dimensions: H. 31,8 cm. (12 ½ in.) W. 44,3 cm. (17 ½ in.)

Signature: Signed in the center, bottom, with red chalk H. ROBERTI – ROMA / 1761 and a large watermark, non recorded in Headwood, with a stylized star, and pontifical and cardinals emblems ; hence a Roman paper.

Literature: G. K. Loukomski, study by Pierre de Nolhac, « La Rome d'Hubert Robert. Quatre-vingt-dix sanguines choisies et commentées ». Paris ; Vincent, Fréal et C. Editeurs ; 1930 ; repr. n° 49.


Description:
This palace, the most influential element of the entire urban project instigated by Pope Sixtus V, to which architects such as Ponzio, Bernini, Maderno and Fuga contributed, magnificently complements its vicinity, while crowning Mount Quirinale. If its façade is often depicted by artists, together with the square preceding it centered with Dioscuri and the obelisk, its courtyard is not as easily portrayed. It seems as if, among the numerous views of Roman monuments depicted by Hubert Robert between 1760 and 1762, this drawing is the only one dedicated to the inner courtyard of the palace.
It is related to other drawings in which Robert vigorously portrays the baroque architecture of Rome in red chalk, with an apparent predilection for the interplay of vertical columns, the opposition of masses, the rendering of the light bursting through its colonnade or porticos, and finally the fascination for its perspective. These elements are also found in Le cloître des Chartreux (1761) conserved in Besançon, the Cour de la villa du Pape Jules (1762) at the museum of Providence (U.S.A.) or the Entrée of this same palace also dated from 1762 (former Cailleux gallery).