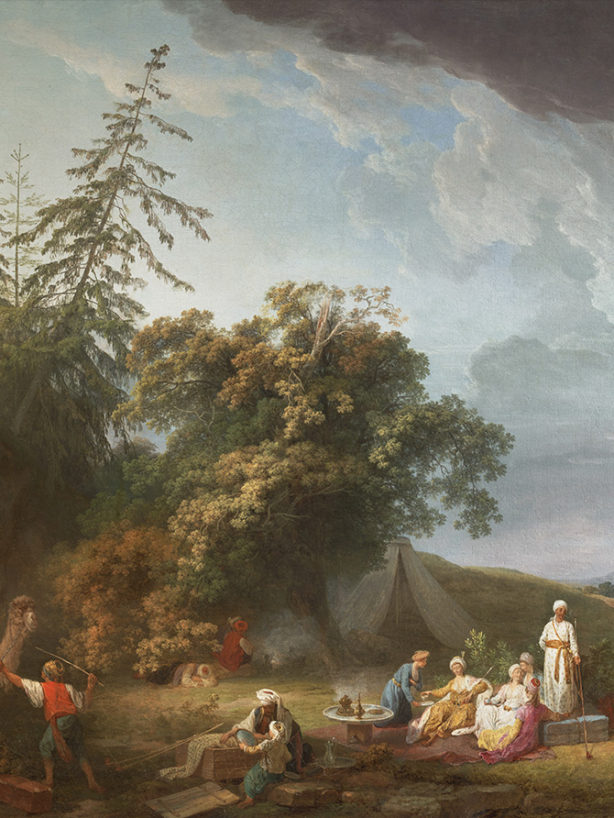 The halt of the oriental princesses
Artist: Jean-Baptiste Hilaire (1753-1822)

Epoque: French school, circa 1785-1790

Material: Oil on canvas

Dimensions: H. 32 11/16 in. (83 cm) ; L. 39 3/8 in. (100 cm)


Description:
Jean Baptiste Hilaire is one of the artists influenced by these sources, the East fantasy and reverie very present in French painting, especially by the journey he made in 1776 in the Greek islands and in the East, whose shimmering tones and the golden light in here are reminiscence.
Historical truth is not the purpose sought by Hilaire, as shown in Western costume characters, the representation of the East in the XVIIIth century is here pure fantasy and enchantment, unlike its evolution in the XIXth century, more ethnographic.
A watercolor of the 1790's at the Louvre Museum elegantly illustrates this vogue related to Orientalism, a coquetry of the high society of the time who also enjoyed to dress in a « Turkish » trend for portraits.