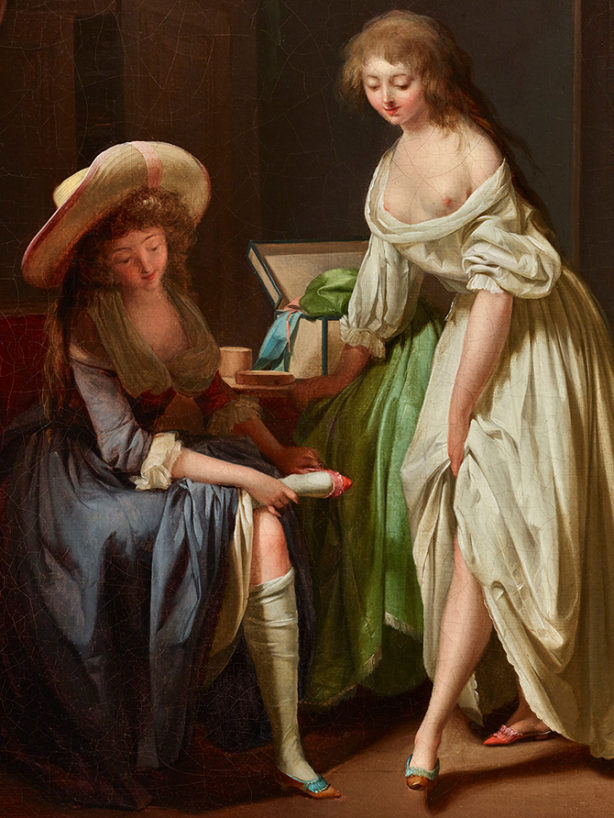 The little feet
Artist: Louis-Leopold Boilly (1761-1845)

Epoque: French school, circa 1791

Material: Oil on canvas

Dimensions: H. 18 in. (45,8 cm); L. 15 1/8 in. (38,4 cm)

Provenance: M. Marcel Midy collection, 1939 ; private collection, Belgium.

Signature: Signed lower left Boilly

Exhibition: Paris, former Hôtel de Sagan, Louis-Léopold Boilly, 31 May - 22 June 1930, no. 42; Paris, Carnavalet museum, La Révolution française dans l'histoire, dans la littérature, dans l'art, 1939, p. 167, no. 1180.

Literature: A. Dinaux, « Boilly », in Archives historiques et littéraires du Nord de la France et du Midi de la Belgique, Valenciennes 1849, t. IV, p. 200; Larousse, 1867, p. 877; J. S. Hallam, The genre Works of Louis-Léopold Boilly, University of Washington 1979, pp. 26, 28, 40, 45 and 205, repr. fig. 23. A. P. de Mirimonde, "Scènes de genre musicales de l'école française au XVIIIe siècle dans les collections nationales," Revue du Louvre, no. 1, 1968, p. 15, fig. 6; M-C. Heck and G. Faroult, Jean Raoux 1677-1734: un peintre sous la Régence, Paris 2009, p. 196-7, cat. no. 28, reproduced p. 57, fig. 5.


Description:
This unique erotic composition reveals an interior in which a woman, sitting to the left, crosses her right leg on her left knee to remove her shoe and compare her foot with that of her friend. Both have a red shoe and a blue shoe each; they obviously exchanged them. The woman on the right, her breasts uncovered casually, lifts her skirt. In the doorway, a voyeur looks at the scene with interest.
Here, with a refined technique, the artist reveals how much he is able to restore the intimacy of the scene through the magnificent play of fabrics and the subtle lighting. In the tradition of Fragonard, Greuze or even Marguerite Gerard, Boilly often painted scenes of gallantry, often with a moralizing message. These are characterized by a limited number of characters, the use of a theatrical chiaroscuro to highlight one or two protagonists and the particular care given to the rendering of textures of fabrics. Boilly combines Fragonard's lively and lively spirit with a touch of porcelain inspired by 17th century Dutch painting.
At least three versions of this composition, titled Les petits pieds, have been produced, including one now lost and known only by an engraving by Alexandre Chaponnier. The main group of the scene is identical but the third character is now on the ground, in a grotesque pose, trying to see even more (Fig.1). A drawing in wash, preparatory to one of these compositions now missing, figured in the sale of the Lavalette collection of November 11, 1861. Harrisse also mentions a version painted in grisaille in imitation of engraving.
Les Petits Pieds was the counterpart of a second satire, L'amant privilégié, a painting also engraved by Chaponnier, in which a woman whose breasts are also discovered rushes to the door of a room to close it while her lover sneak by another among the artists that the painter Jean-Baptiste Wicar denounced to the Society of Arts for their prints considered revolting by the republican mores.
The success of our composition is due to its reproduction in many engravings and other prints. The edition was announced in the Gazette de France of March 18, 1791, which allows us to assign an earlier date to the original paintings. If the virtuosity of Boilly's mastery is well established, Les petits piedsis a good example of the dilapidated spirit of the end of the Ancien Régime.
We thank Mr. Etienne Breton and Mr. Pascal Zuber for confirming the authenticity of this work, respectively, by an in-person examination and photographs, and for their assistance in writing this note. The work will be included in their catalog raisonné of the artist being prepared under no. 153P.