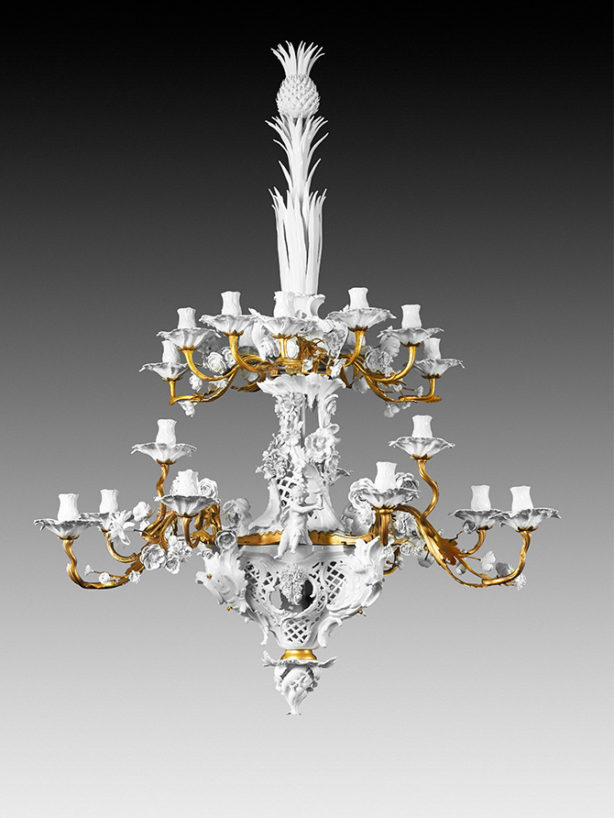 Twenty-one lights porcelain chandelier from the Royal Manufactory of porcelain of Berlin
Artist: Royal Manufactory of porcelain of Berlin

Epoque: Berlin, early 19th century

Material: White porcelain of Berlin, ormolu

Dimensions: H. 66 1/8 in. (168 cm) ; L. 54 3/8 in. (138 cm)

Provenance: Galerie Michel Ottin, Paris, 1992, Zeineb and Jean-Pierre Marcie-Rivière collection

Signature: Indented blue marks representing the scepter of the Manufacture of Berlin, several other embossed marks.


Description:
In the rocaille taste, our Berlin white porcelain chandelier is composed of twenty-one lights articulated around a pierced shaft of trellis motifs and garlands of flowers, decorated with putti holding a laurel wreath and surmounted by two row of palm leaves and a pineapple.
A quite comparable partially polychrome chandelier by Friedrich Elias Meyer and Pierre Geoffroy, commissioned by King Frederick the Great around 1765 for the Neues Palais, Potsdam-Sansoucci, was carried away by Emperor William II during his exile to Huis Doorn, in the Netherlands, where it is still kept (reproduced in R. Baarsen, Le Rococo in the Netherlands, Rijksmuseum, Amsterdam, 2002, p.81). He appeared in 1913 in the Empress' private apartment in the Neue Palais, and probably originally in the lower Concert Room. Unsigned examples in the Blue Room and the Hunting Room are today still in situ at Palace Sanssouci.
A description of the whole interior of the two palaces of Sans-Soucis, Potsdam and Charlottenburg by Matthieu Oesterreich, in 1773, mentioned in the room which follows the marble gallery: « A porcelain chandelier from the Berlin Factory. The drawing is elegant and of a good proportion. The chandelier is adorned with flowers and some figures that make a beautiful effect. We can say that it is the most beautiful luster that we have done in this genre. »
Another similar chandelier, now in the private collection of HM the Queen of United Kingdom at Sandringham House also came from the German royal family, donated by Emperor William I.