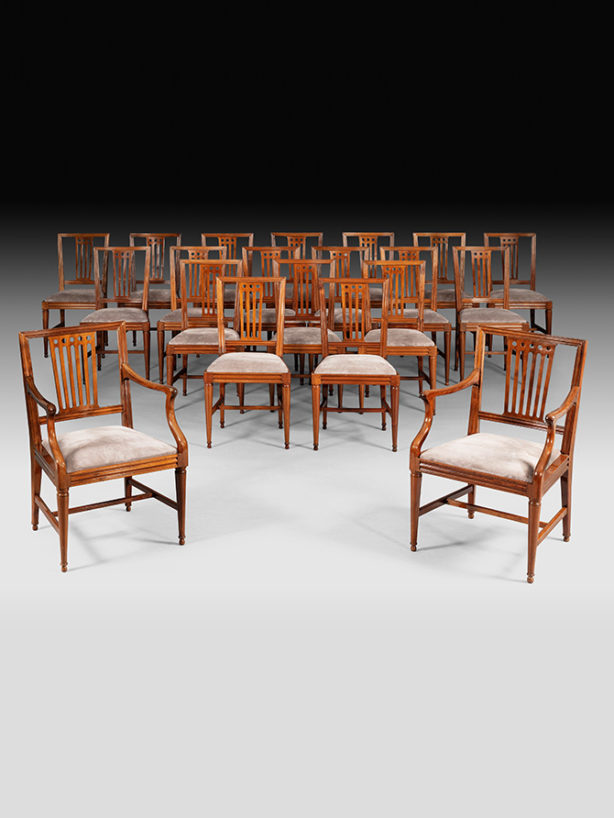 Set of eighteen chairs and two armchairs by Jean-François Leleu (1729-1807) and Pierre-Eloi Langlois (1738-1805)
Artist: Jean-François Leleu (1729-1807) and Pierre-Eloi Langlois (1738-1805)

Epoque: Paris, circa 1790

Material: Mahogany

Dimensions: chairs : H. 93,5 cm (36 ¾ in.), L. 46 cm (18 1/8 in.), Pr. 39,5 cm (15 ½ in.) armchairs : H. 93 cm (36 5/8 in.), L. 56 cm (22 in.), Pr. 48,5 cm (19 1/8 in.)

Signature: Stamped : P.E. LANGLOIS and J.F. LELEU


Description:
Each seat in our set has a square section seat in mahogany with a soberly molded belt resting on four tapered legs, and with rings, distinguished by the inclination of the hind legs. The rectilinear backrest, also inclined, is openwork 'with grid'.
Of a certain elegance, our set is also very rare. Indeed, due to the regulations of craftsmen corporations, there are few seats made by master cabinetmakers in the 18th century. Some renowned cabinetmakers have tried this style exercise, however: Leleu, Langlois, Riesener, Canabas, Cosson, or Stockel and Garnier. The prestige of the patrons seems to have favored a departure from the rules of the corporations. Pierre Garnier delivered a set of 36 seats with armrests similar to ours for the Marquis de Marigny hotel, Place des Victoires.
Leleu also produced, in collaboration with Langlois, a series of two armchairs and eighteen chairs for the Marquis de Laborde at the Château de Méréville. Six of these chairs, which have an openwork "grid" backrest slightly different from ours, were sold at Artcurial on March 8, 2004, lot 268.
These seats perfectly illustrate Anglomania as it applied to French furniture in the years 1770-90. It reflects the taste of the time for the first-choice solid mahogany seats and the search for et noble simplicity'. The economy of the forms and the purity of the lines are admirable on our armchair, which thus does not suffer from the absence of ornamentation of gilded bronze.