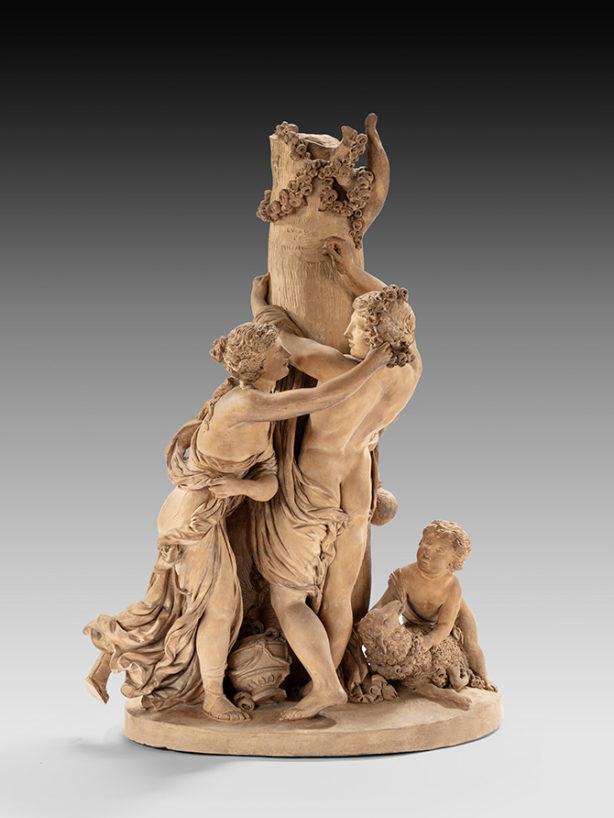 The coronation of a poet: tribute to Salomon Gessner by Johann Valentin Sonnenschein (1749-1828)
Artist: Johann Valentin Sonnenschein (1749-1828)

Epoque: Switzerland, circa 1770-75

Material: Terracotta

Dimensions: H. 55 cm (21 5/8 in.), L. 40 cm (15 ¾ in.), D. 26 cm (10 ¼ in.)

Signature: Titled Lycas et Milon on the tree


Description:
This delicious terracotta group presents the crowning of a poet: a nymph deposits the crown of roses on the forehead of the young man who writes the title of one of his works on a tree trunk: "Lycas and Milon ".
Composed by the Swiss poet Salomon Gessner, this pastoral poem tells of the meeting of Milon and Lycas "wearing his wavy, blond hair, like the ears of corn near the harvest". As they lead their herds to the pastures, the two shepherds decide to compete in the art of song and flute; Menalque will be their judge. The two young men then discuss while praising their art. Menalque having listened to them, the latter refuses to decide between them and encourages them, on the contrary, to continue to exchange.
Born in Zurich in 1730, poet and painter, Salomon Gessner evolves in the Zurich liberal circles of the Age of Enlightenment. The painter Johan Caspar Füssli (1706-1782), father of Henry Fuseli, represents him among his learned friends, doctors and writers. He made himself the cantor of a moral and nostalgic literature, of a Golden Age populated by shepherds and muses which he brought together in 1756 in his Idylls. Parents of La Nouvelle Héloïse by Jean-Jacques Rousseau (1761), his poems and his writings were very successful. They are translated into English and French and are published alongside Diderot's Moral Tales. His paintings echo his literary work: he paints and draws idyllic landscapes between neoclassicism and romanticism which are immediately collected.
Made around 1775-1780, the Coronation of a Poet shows Sonnenschein's astonishing artistic maturity. The hair is described with obvious meticulousness, the round faces with very drawn eyes and hemmed pupils illuminate with a very clear look. Beyond the characters, no space is left empty of ornament.
The slightly stocky bodies are covered with creamy and delicate drapes, while the decorative details are treated with extraordinary precision. These characteristics of Sonnenschein's style are identical in a magnificent Bacchante au vase, which also pays a marvelous tribute to Antiquity. The garlands of flowers, the folds and the naturalistic elements are modeled with obvious pleasure.
Like Clodion in France, Sonnenschein makes the link between the end of the Rococo and the beginnings of neoclassicism. Their an extremely refined art depicts an ancient world populated by nymphs and poets whose songs rock the Europe of the Enlightenment.