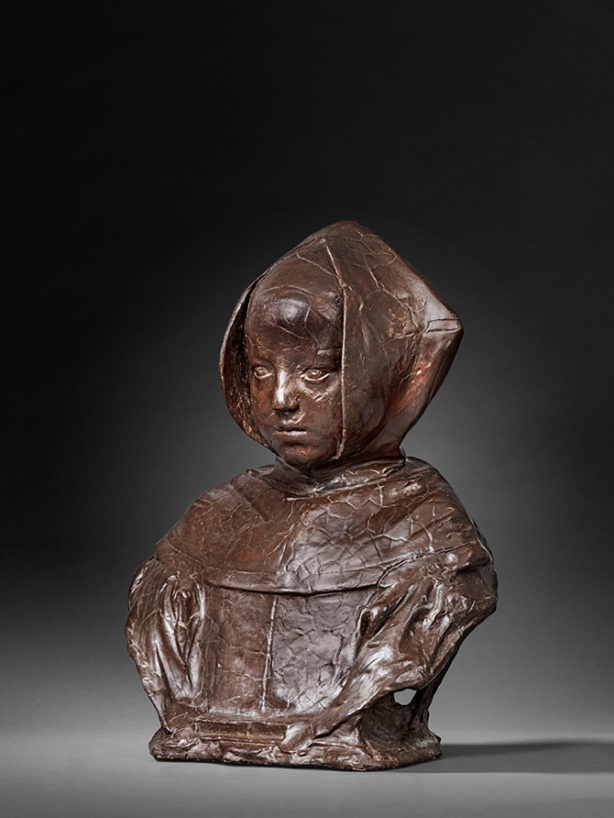 The Novice by Jean-Joseph Carriès (1855-1894)
Artist: Jean-Joseph Carriès (1855-1894)

Epoque: France, circa 1888

Material: original brown wax on plaster structure, unique piece

Dimensions: H. 49 cm (19 ¼ in.), L. 37 cm (14 5/8 in.), D. 27 cm (10 5/8 in.)

Provenance: Ménard Dorian Collection

Exhibition: Carriès exhibition at Ménard-Dorian's salon, 1888


Description:
« Pure sentimental evocation ». This is how Arsène Alexandre, a friend of Jean-Joseph Carriès and author of one of the first books on his work, categorized and named " The Novice". This gracious and mysterious wax sculpture is in truth a portrait of Agnès Carriès, the artist's young sister with whom he had a close relationship. The sculptor was known to carry with him a photograph of the young girl at all times.
In 1876, Mother Callamand urged Carriès to promptly travel to Lyon to make a portrait of her sister wearing the novice veil, as she was dying from tuberculosis at the young age of eighteen in the Saint Jean orphanage. To honor her memory, he modeled Agnès' bust and captured her great beauty infused with innocence; thus, our Novice was created. The style and genesis of this work leaves no doubt to the eye and senses that it seeks not to recreate reality. Rather it sublimates memories and interpretation, and emanates a powerful inner force instead of a superficial external perception. Carriès passionately lives through each of his creations.
This wax piece, the last one still in private hands, is therefore absolutely exceptional and unprecedented. It was shown at the most important exhibition during the life time of the artist at the Salon of his renowned patrons: the Menard-Dorian. Since the artist produced the majority of his sculptures between 1880 and 1888, this exhibition concludes a phase following which he started working with sandstone and other vectors.
3 sandstone sculptures derive from this wax, including one now conserved at the Petit Palais created in 1893 in his workshop in Montriveau.