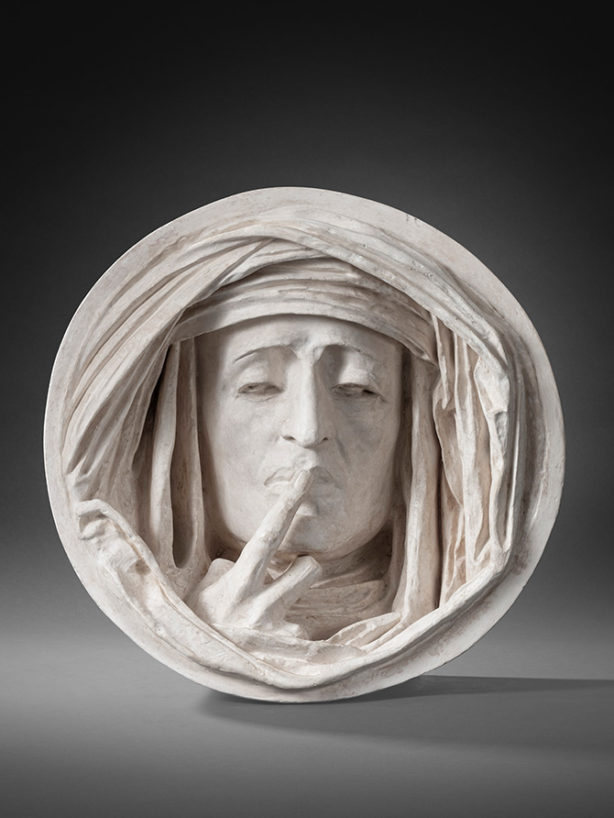 The Silence by Auguste Préault (1809-1879)
Artist: August Préault (1809-1879)

Epoque: Paris, 1842-1849

Material: plaster

Dimensions: diam. 41 cm (16 1/8 in.)


Description:
What is this figure of undefined age and uncertain sex? Is it Death, the Parca who cut the thread to life, one of the Mothers who, from the depth of the Hades, watches over the seeds of future creations? (…). Towards which invisible horizon does this empty gaze watch; which dream or thought haunts this somnolent forehead? (…) One does not know; but this impassible head, sinister and mysterious, has the appearance of Death itself; it horrifies, immobilizes and stupefies. These words, written by Théophile Gautier when Auguste Préault unveils the Silence at the Salon in 1849, confirm the impact this work had. The work, immediately promoted as an icon of Romanticism, personalizes artistic modernity in the middle of the 19th century.  « The romantic movement has been represented by Victor Hugo in poetry, by Delacroix in painting, and by Berlioz in music; Auguste Préault transported it into sculpture. »
Draped in a shroud, this face flaunts a melancholic and tragic mask. A hand comes out from under the fabric placing a finger on the mouth, commanding silence and secrecy, as well as respect for the departed and the mystery of the afterlife. A play of light and shadow skillfully ads a dramatic dimension to the scene. This work was commissioned to Préault in 1842 for the grave site of Jacob Roblès at the Père-Lachaise, a renowned Parisian cemetery. Préault seemingly met the Roblès family through his friend and poet Alphonse de Lamartine ; a preparatory drawing is conserved at the musée des beaux-arts in Rouen.
Presented under the title of « Funereal mask (Masque funéraire) », Silence became a work of art in itself cultivating the mystery of its implication. Described in 1843 as a «Sybil of Death (Sybille de la mort) » by Charles Alexandre – who perceived Michelangelo's inspiration in both the work of Préault and Füssli, Silence is an interpretation that impresses visitors and definitively establishes the prestige of Préault.
In response to the enthusiasm of visitors, Préault produces two other bronzes now conserved in museums, as well as approximately ten plaster versions. Of the eleven pieces recorded in the catalogue raisonné of the artist, nine are now conserved in museums. Only two remain in private hands: the one we are presenting here and another not yet localized.