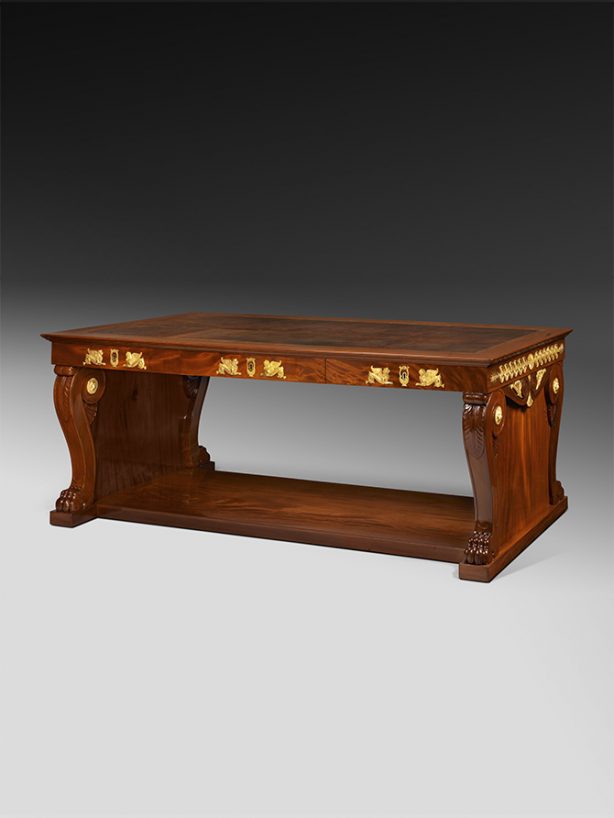 Bureau plat by Jacob Desmalter
Artist: François-Honoré-Georges Jacob known as Jacob Dessaler (1770-1841)

Epoque: Paris, Empire period (1804-1815)

Material: Mahogany and ormolu, leather

Dimensions: H. 29 ½ in. (75 cm); L. 77 ½ in. (197 cm); D. 38 ½ in. (97,5 cm)

Literature: - Charles Percier and Pierre Fontaine, Recueil de Décorations Intérieures, Paris, 1812. - Michel Beurdeley, Georges Jacob (1739-1814) et son temps, Saint-Rémy-en-l'Eau, 2002. - Jean-Pierre Samoyault, Mobilier français Consulat et Empire, Paris, Gourcuff Gradenigo, 2009.


Description:
This rectangular bureau plat displays a mahogany veneer over a mahogany frame. The three frieze drawers are enhanced with winged griffons and a lyre flanking each keyhole. The frieze displays two rows of palmettes and whorls, alternating with stylized roses on all three sides.The solid side posts shaped as large scrolls are underlined, at the top, with a carved acanthus leaf and a chased ormolu lion muffle. On each side, two sizeable carved wood scrolls are centered with an ormolu lotus flower, and chased with ormolu leaves. The legs end in large paw feet. A platform base links the four legs.
Several stately pieces of furniture by Jacob-Desmalter compare to our desk. The mechanical desk of Napoleon, delivered in 1809 by Jacob-Desmalter, features a similar outline : large paw feet, a solid platform base and a frieze enhanced with rows of palmettes. The keyhole bronze ornaments are identical to those on our desk.
Another mechanical desk by Jacob-Desmalter for the château de Compiègne, features ormolu mounts faithfully identical to ours. The side scrolls, although smaller, originate from the same drawing. The mechanism concealed underneath the top of the desk however, gives it a sturdier outline.