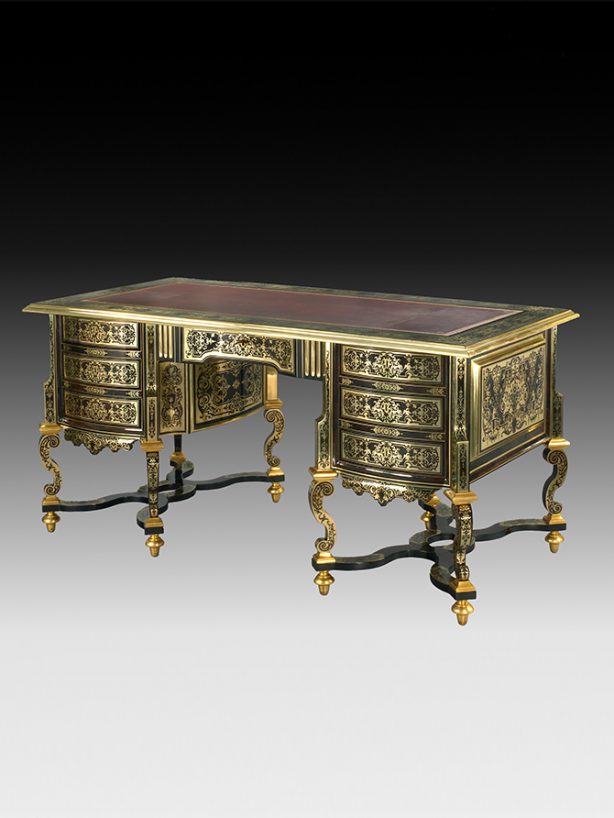 Bureau plat with Boulle marquetry
Epoque: Paris, Louis XIV period, circa 1695-1700

Material: Première partie marquetry of brass and tortoiseshell, ebony, ormolu

Dimensions: H. 31 in. (78,5 cm); L. 65 ¼ in. (165,5 cm); D. 31 ½ in. (80 cm)


Description:
This magnificent desk is decorated on all sides with a luxurious marquetry of tortoiseshell and brass. It contains a burgundy leather desk top and stands on eight console legs, joined by groups of four with X-shaped cross braces, ending in an ormolu toupie foot, on its turn crowned with a flat, square ormolu capital.
The front of the desk has a slightly concave central drawer, flanked on either side by triglyphs enhanced with brass, and two lateral chests of drawers with convex sides, each containing three drawers that can be locked.
The desk is entirely adorned with a marquetry en première partie in the Boulle manner, made of brass and brown tortoiseshell (loggerhead). The extremely opulent and elaborate pattern of this decor is mainly inspired by the work of Jean I Bérain (1640-1711), Dessinateur des Menus Plaisirs du Roi, whose engraved models strongly influenced the decorative arts between 1690 and 1710, in France as well as in the rest of Europe.