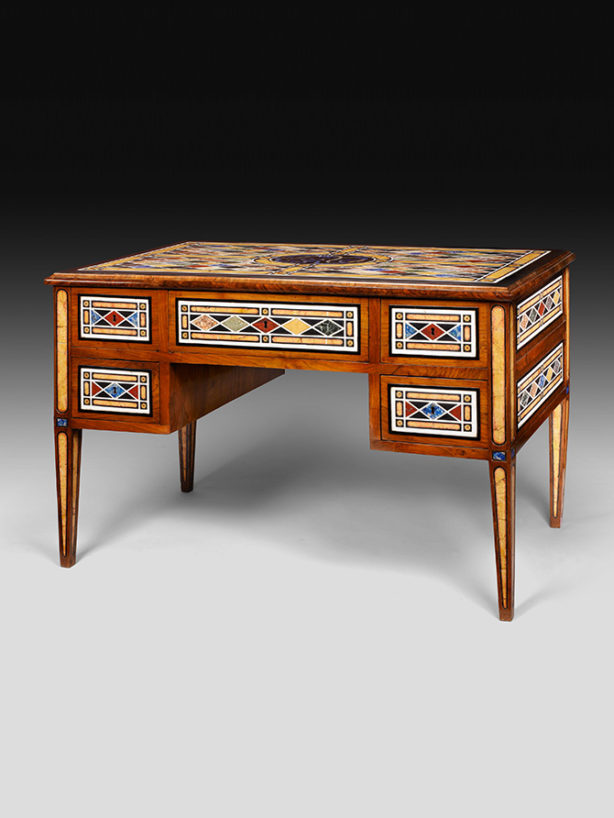 Walnut desk inlaid with semi-precious stones
Period: Tuscany, Italy, circa 1790

Material: walnut, marble and semi-precious stones

Dimensions: 31 in. high (79 cm.); 48 in. wide (122 cm.); 27 in. deep (68 cm.)


Description:
This table presents a rectangular top inlaid with a lozenge pattern of various marbles and semi-precious stones, and a border of Sienna marble broken at intervals by flower heads. The center is decorated with an oval enclosing a sting of beads entwined with ribbons of lapis-lazuli and a hovering butterfly. The marble and semi-precious stones inlay include Tortosa Brocatello, Bardiglio, Carrara, Sienna, Verde Antico, jasper, Agate and Lapis-Lazuli.
The frieze comprises five drawers to the front, two set vertically each side of a single drawers and sides faced with marble panels of similar design to that of the top, concealing key holes, while the corners and four-square tapering legs are inlaid with panels of Sienna marble and lapis-lazuli.
Marble and semi-precious stone inlay was typically produced in central Italy, starting in the 16th century. From Florence to Naples, cabinet makers adorned stately furniture with shimmering semi-precious stones. The harmonious and geometrical yet simple outline of this desk reflects the neoclassical trend towards the end of the 18th century. Neapolitan workshops typically enhanced the muted lines of their production with fine marquetry decors.
The central oval, with its design of pearls entwined with blue ribbon and a butterfly, can be traced back to a table, offered by Ferdinand II de Medici, grand duke of Tuscany (1610-1670), to cardinal Antonio Barberini (1607-1671), a nephew of pope Urban VIII (1568-1644). This prestigious origin propelled such iconography to the forefront of the ornamental Italian vocabulary. The same motif appears in earlier 'pietre dure' panels in the centre of two Italian inlaid table-tops at the Pitti Palace in Florence, one created in 1715 and the other towards 1850. Another mid 18th century example is a silver tray now in the Imperial Habsburg palace in Vienna.