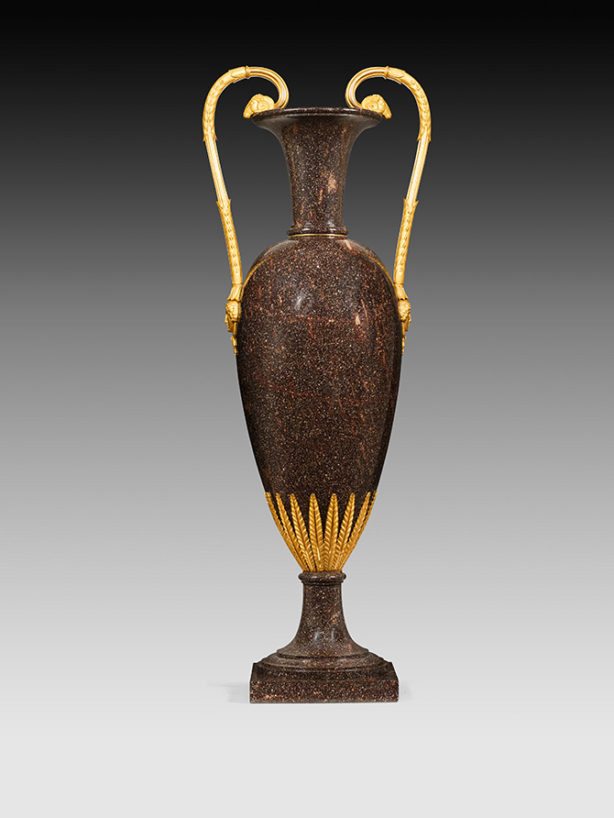 Monumental porphyry vase
Artist: Royal Älvdalens Manufacture

Epoque: Sweden, circa 1820

Material: Porphyry, chased and gilded bronze mounts

Dimensions: H. 127 cm. (50 in.); L. 47 cm. (15 3 /4 in.)

Provenance: The collection of Robert-Marguerite de Tascher de La Pagerie, known as Baron de Tascher.


Description:
A monumental porphyry vase produced in the royal hard stone workshop of Älvdalens. This workshop was one of the most important sources of hard stone works of art at the beginning of the 19th century. This monumental and elegant Swedish porphyry vase represents the best in early 19th century production of the Älvadalen quarries. Rich ormolu mounts of exquisite quality enhance the ovoid shape. The use of the rams head motif and 'feuilles d'eau' refers to the iconic neoclassical iconographical vocabulary of the Empire period. Its illustrious provenance places it right at the centre of early 19th century History as it can be traced back to the collection of Baron Robert Marguerite Tascher de la Pagerie, the uncle of Empress Josephine.
In 1731 porphyry is discovered in the Älvadalen valley in, which is quickly followed by the creation of numerous workshops. As of 1788 the production of different shapes and sizes of vases, tazza's and object is registered to allow recognition of the Swedish origins of the pieces when exported for commercial or diplomatic ends. The architect, Carl Fredrik Sundvall, will create a collection of models to be followed by the workshops. These drawings and price lists have survived and are a great source. The pure shapes are enhanced by ormolu mounts to create an exquisitely balanced 'objet d'art'.
Swedish porphyry will become renowned across Europe after the voyage to Italy of the Swedish king Gustave III (1746-1792) and under the patronage of Jean-Baptiste Bernadotte (1763-1844), the future king of Sweden and Norway as Charles XIV John of Sweden and Charles III John of Norway. He will create an artistic exchange between France and Sweden, after which French sculptors will infuse the Swedish production with their signature Empire style and neoclassical iconographical vocabulary.
The monumental vase in the summer gardens at St-Petersburg is one of most impressive pieces to ever leave the workshops. It was presented to Tsar Nicolas I (1796-1855) as a diplomatic gift and has been on display in its current position since 1839. Like the vase in our collection it is monumental in size, has the same ovoid shape and an elegantly elongated neck. According to family tradition, Charles XIV, King of Sweden between 1818 and 1844, presented our vase to the family of Baron Robert-Marguerite de Tascher de la Pagerie.