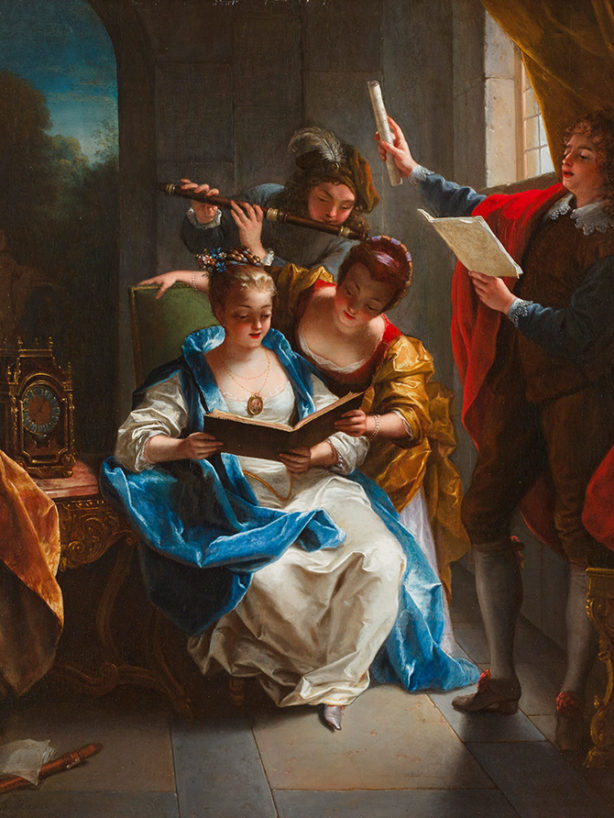 Quartet in concert
Artist: Jean Raoux (1677-1734)

Epoque: French school, first quarter of 18th century

Material: Oil on canvas

Dimensions: H. 31 7/8 in (81 cm) ; L. 25 in. (63,5 cm)

Signature: Signed lower left J.Raoux

Literature: G. Bataille, "Raoux," in L. Dimier, Les Peintres français du XVIIIe siècle. Histoire des vies et catalogue des œuvres, 1928-1930, vol. II, pp. 267-282, no. 1.40; A. P. de Mirimonde, "Scènes de genre musicales de l'école française au XVIIIe siècle dans les collections nationales," Revue du Louvre, no. 1, 1968, p. 15, fig. 6; M-C. Heck and G. Faroult, Jean Raoux 1677-1734: un peintre sous la Régence, Paris 2009, p. 196-7, cat. no. 28, reproduced p. 57, fig. 5.


Description:
The present painting features two women in song at center, and a young flutist behind them.  To the right is a young man singing along and perhaps directing the group with his gestures.  The charming scene is full of elegant details which reinforce the extravagance of the setting, including a gilt table, luxurious curtains and fabrics in the clothing, and a sculpture in a garden setting beyond.
Raoux repeats the motif of the two women at center in another painting, now in the Musée de Montpellier.  In that work, there is a giltwood piano open in the right foreground, and the jewelry and hairstyle of the seated woman are slightly different. Another painting more focus on two ladies is in private collection.