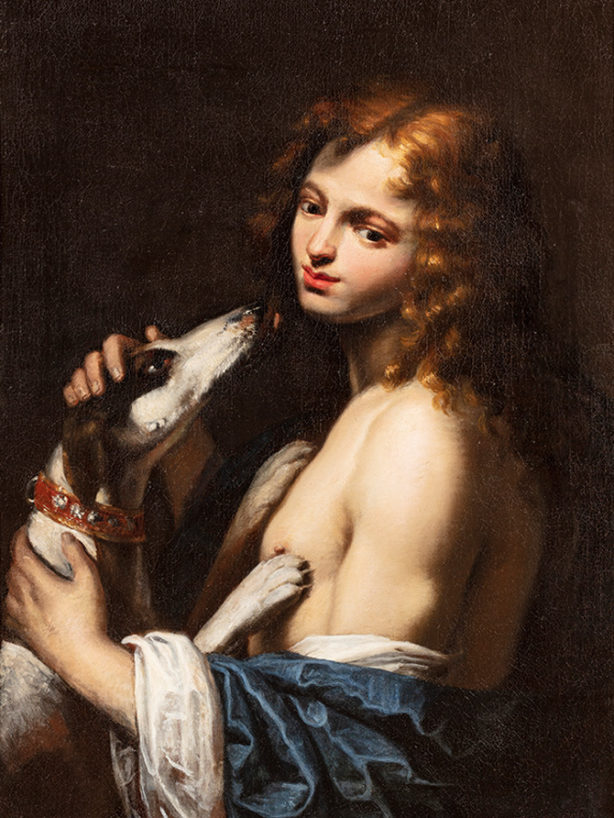 Presumed portrait of the Marquis Altoviti as Adonis
Artist: Baldassarre Franceschini known as Il Volterrano (1611-1690)

Epoque: Italian school, Florence, circa 1650

Material: Oil on canvas

Dimensions: H. 88 cm (34 5/8 in.) ; L. 68 cm (26 ¾ in.)


Description:
An artist renowned for his frescoes, Baldassarre Franceschini, known as Il Volterrano, was without doubt the most important Florentine painter of the 17th century. He also distinguished himself on rare occasions as a brilliant portraitist. Our painting, a previously unpublished rediscovery, is a wonderful example of this.
Among the few portraits by Il Volterrano, let us mention the one of Giancarlo De' Medici kept in the Palatine Gallery; but above all the one of the Marquis Luigi Alberto Altoviti represented as Hylas, of which our painting, which is extremely close, can be considered as another version. In fact, Franceschini uses the same characteristics, the man is represented at mid-body, his face turned towards the viewer, his shoulders revealed, his blue garment soft and airy, and his blond hair gilded by a delicate light.
The young man depicted in our painting is probably the same as in the New York version. It should be noted that there is also a third version in the London art market with some variations in which the Marquis is depicted as Ganymede. The presence of the dog suggests that in our version the model chose to be depicted as Adonis.
"The style of the work is characteristic of Baldassare Franceschini, who celebrates an idealised antique beauty of remarkable sensuality – like Francesco Furini – particularly appreciated and demanded by the cultivated Florentine patrons, who frequented, like Volterrano, the various intellectual circles around the Florence court. The thick, rapidly applied paint suggests that the painting was done in the late 1650s, when Volterrano was still working on the dome of the Niccolini Chapel in the Church of Santa Croce in Florence, celebrated by ancient sources and modern literature as the painter's masterpiece. This was a crucial phase in Volterrano's career: he drew on the experience he had gained during his travels in Emilia (1651) and Rome (1653) to create an original language in which many different stylistic influences (Correggio, Reni, Cortona, Bernini) were synthesised and reworked. "
The attribution to Baldassare Franceschini, il Volterrano, was confirmed by Mrs Francesca Baldassari in September 2020.